The short answer is vertical platform lifts are typically installed due to an immediate accessibility requirement, while elevators are usually incorporated for luxury or ageing in place purposes. Of course, there are always exceptions, so it is important to understand the limitations  and features of each device.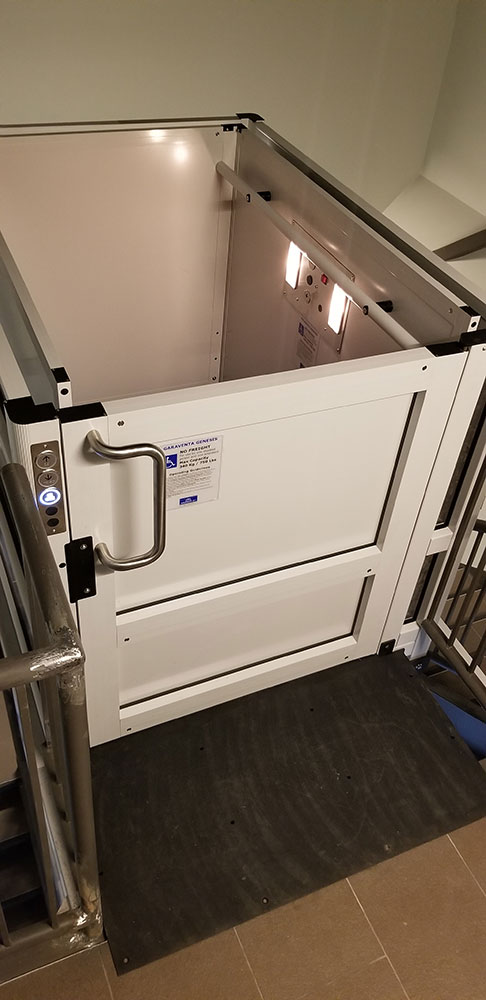 Code
While residential elevators and lifts are not inspected in Alberta, there are governing codes that exist. Elevators fall under the B-44 code while accessibility lifts are built to meet the B-613 code. Ultimately it is these codes that provide the distinction between the products.
Constant pressure or automatic operation
Elevators utilize automatic operation, while a lift will require that you hold the button for the device to function. Holding the button or constant pressure operation limits your risk for pinching or shearing hazards. I go into more detail below.
Elevator car or lift platform
An elevator will always have an enclosed car usually complete with a ceiling. Your entrances must have an accordion gate or a sliding elevator door to be code compliant. This is due to the above mentioned automatic operation. A lift, on the other hand, will have an "open platform" so the hoistway around you is exposed, thus the requirement for constant pressure operation.
Speed 
Lifts will have an operating speed of 8ft/min – 18ft/min. An elevator usually functions at 40ft/min.
Capacity
Capacity usually isn't a factor as platform sizes are limited, but lifts will start at 550lbs (most are 750lbs) and elevators will range from 1000lbs – 1400lbs.
Flexibility and features
While I have installed  some pretty fancy lifts in my time, most of the  upgrades people look for are usually only offered with an elevator purchase. These can include, automatic homing, hands-free phone systems, and custom interior finishes. We can usually make an elevator fit into the desired space while a lift is more of a "cookie cutter" design.
Cost
For the purpose of comparison let's use a 2 stop with 10′ of travel, and entrances on the same side. A lift will cost you approximately $17,000.00 and an elevator will land around the $25,000.00 mark.
This obviously is general information and is based on specific product offerings, but should give you the tools to differentiate between an elevator and a lift.
Drawings and the corresponding site preparation for these devices can be found here
More information on residential elevators can be found here
More information on residential lifts can be found here