This article is not referring to passenger elevators and is intended to discuss the advantages of MRL Elevators in a residential or commercial accessibility lift setting. A machine room-less elevator or an MRL Elevator is a device that typically houses the drive mechanism at the top of the hoistway. By doing this the need for a machine room is eliminated, as the entire device is contained within the elevator footprint.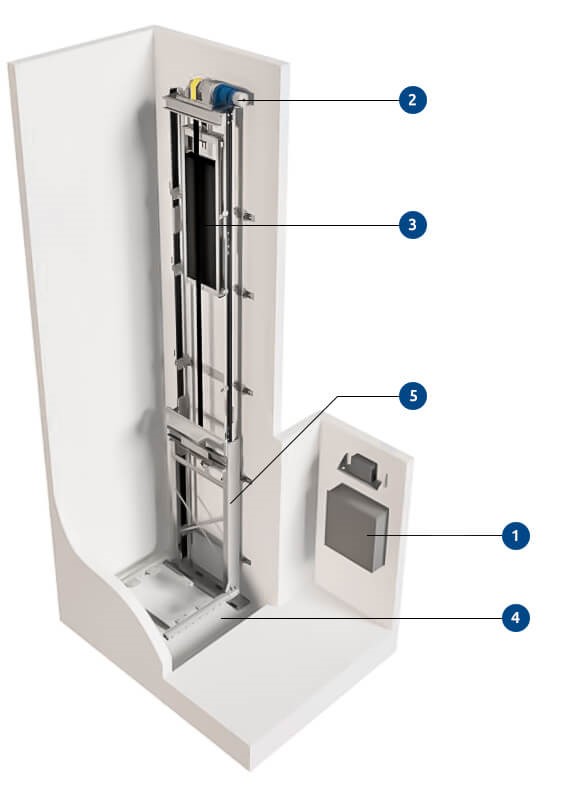 Units that require a machine room( like most hydraulic drives) will also require the hydraulic hoses to run through a wall from the machine room to the elevator hoistway. In cases where the machine room is not adjacent to the elevator, a remote machine room will be required.  This can be costly and create logistical problems with the running of hydraulic hose through the floor, ceiling or in the walls. It also poses several maintenance concerns; What if a hose ran through a ceiling for instance and it starts to leak? Will it be possible to do a scheduled hose replacement? What type of ongoing costs should you expect in this application? This is a definite advantage of an MRL, having the entire elevator in one contained space.
The second advantage is quite simple; with an MRL elevator, you do not have to allocate the additional space to house the drive mechanism. Depending on the drive system a machine room could require anywhere from 12  to 20 square feet.  This is space that could be used for storage or a larger elevator car.
Finally look at all the costs associated with constructing that machine room. If you think about it,  its equivalent to the cost of half the elevator hoistway  (2 stop). On top of the basic room construction, you will need to provide lighting, possible drains, sump pumps or oil separators, and additional sprinkler/smoke detectors.  These costs can add up quickly, and should be considered when calculating the overall cost of the elevator.
To recap MRL Elevator units will:
Save you money when it comes to maintenance
Require less space
Reduce the initial cost of construction
For more information on Commercial MRL Elevators click here For more information on Residential MRL Elevators click here