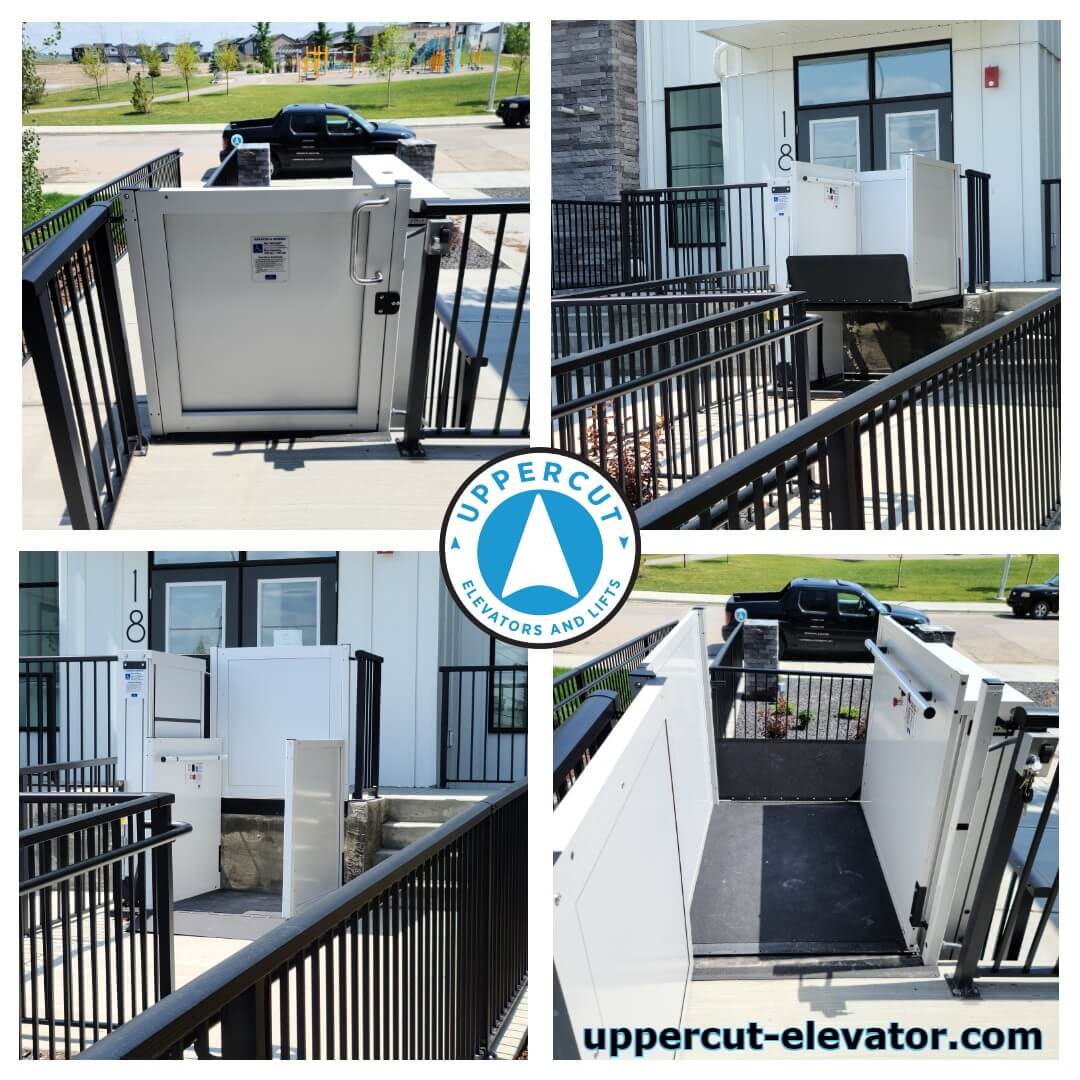 Our Unenclosed Wheelchair Lifts are ideal when you need access to a stage, raised lobby or any rise under 2500mm (98″) ,  an unenclosed vertical platform lift (VPL) may be the ideal solution. These elevating devices can save you on construction cost simply because as the name indicates they are "unenclosed", and do not require a hoistway to be built. They do not need a pit and usually, come with a fold down ramp to create easy access to the lift platform. These lifts when installed commercially must adhere to the B-355 code and be inspected by AEDARSA (Alberta Elevating Devices & Amusement Rides Safety Association).
If you are thinking about wheelchair access for your place of worship, school, community centre or any public building there, are a  few items to remember when considering an unenclosed VPL for accessibility.
The following items should be noted and discussed with your accessibility lift consultant:
Any lift penetrating a floor can not be unenclosed and must have a hoistway constructed complete with a lower door.Lifts with a rise of more than 600mm(23.5″) require an upper landing gate or full height door with an interlock
These lifts will require an under platform sensor to remove the crushing or pinching hazard
The running clearance (if partially enclosed) can be no less than 51mm(2″) and no more than 102mm (4″)
The fascia wall where the lift runs must be level, plum, and smooth
Typical capacities of these units are restricted to 750 lbs with a maximum of 1 wheelchair user and an attendant
All B-355 code-compliant lifts (enclosed and unenclosed) are required to operate under constant pressure
Depending on the application you may want to restrict access by making the unit keyed. A provision will have to be made so the public can call an attendant if the device is keyed.
For higher rises, you may want to consider a platform gate that travels with the lift for safety
A rough footprint of a standard platform will be approximately 4′ wide by 5′ long. A sample drawing can be found here
Your lift will require an initial inspection, maintenance and an annual inspection
There will be items not provided by the lift contractor such as emergency lighting, GFCI receptacle, and electrical disconnect
Over the years I have provided a multitude of these units to create wheelchair access in public buildings. Unenclosed vertical platform accessibility lifts offer a simple and cost-effective solution for your barrier-free needs.
For more information on commercial accessibility lifts, including larger enclosed  lifts that penetrate the floor, please click here
For information on residential lifts, please click here