While many of our clients seem to spend a lot of time selecting elevator car finishes and aesthetic options , very little time appears to be allocated to discussing the drive mechanism. I can't really blame them; after all talking about what moves that fancy box you just designed can seem  quite boring.  We however, feel it is important for our clients to get as much information as possible, especially when it concerns such an important aspect like the drive of your elevator.
In this blog I will be discussing the strengths and weakness of the following drive mechanisms.
Hydraulic
This system utilizes a pump motor and oil reservoir, to force hydraulic fluid through a hose to a cylinder. The pump motor and reservoir are usually located in a separate machine room. If you are unable to provide a  borehole at the bottom of the pit you can use a roped hydraulic system.
Strengths
Price point for the equipment will be in the mid-range when comparing other drives
Machine room is easily accessible for servicing
Manual lowering is inside the machine room
Smooth ride and landing function providing the valve settings are adjusted correctly
Usually, incorporates battery lowering in  the standard product offering
Many manufacturers to choose from
Weaknesses
A machine room will be required which equates to extra construction costs
Hydraulic fluid temperature can affect performance
Some jurisdictions may require a pit drain and an oil separator to ensure leaking fluid can't enter the water table
Power consumption will be 2-3 times higher than a traction counterweight system – Therefore more ongoing costs
Maintenance costs on hydraulic units will be 2- 4 times  higher (over a 10 year period) due to the potential of leaks and issues with valves , gaskets, and the pump.
Variable usage patterns can accelerate fluid degeneration
If hydraulic fluid leaks there is the potential for the smell to permeate throughout the building
Levelling and re-adjusting (anti-creep) issues
Counter Weight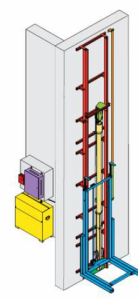 A counter weight drive operates the elevator by having  the mass of a series of weights counter the elevator car and its occupants. If the user selects a command the elevator motor powers a cable elevator past the balance point and the device travels at a regulate rate in that direction.
   Strengths  
Lower power consumption than hydraulic or winding drum systems
Minimal  maintenance due to simple design with lower repair costs
No machine room required
Minimal 6″ pit required
No worry of hydraulic leaks or smells over the life of the elevator
Variable speed drive for soft stop and start
Low standby power
Minimal issues with levelling even with variable capacities
Weaknesses
Access to the motor is at the top of the hoistway (for the service technician)
Manual lowering crank is accessed from the top landing
Auto car lowering (similar to battery back-up) can be added for an additional cost
Fewer manufacturers to choose from in the Alberta marketplace