As a proud Albertan company, Uppercut Elevators and Lifts believe in supporting our local economy, so it makes sense to buy local whenever possible. For this reason, all  the  elevators and vertical platform lifts we purchase  are manufactured here in Alberta (Edmonton).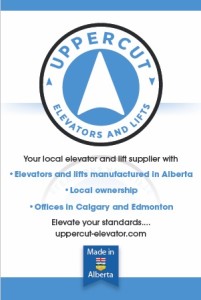 We also believe in the importance of  local ownership. Owners that are present and active within the business, in my opinion, are able to better understand the unique needs of their clients. My own experience spans 17 years, many of which I have been a managing owner. In this time I have learned the value of getting to know my clients and gained the perspective to provide them with the best possible solution.
If you make the claim that you are local, you need to back it up with infrastructure and staff that actually live in the communities they work. We are not proponents of "parachuting" in staff which is reflected by the fact we have offices in both Calgary and Edmonton. These offices are fully staffed with skilled employees and are prepared to serve you in a timely fashion.
This commitment to being truly local is represented in our mission statement:
Our Mission
To provide a local solution using superior products and services for all your residential elevator and commercial accessibility lift needs. We adhere to the values of accountability, flexibility, and attention to detail to ensure the best possible consumer experience.  
You can find our elevators and lifts installed throughout the province including major centers such as Lethbridge, Calgary, Red Deer and Edmonton.
For more information on a local solution to your residential elevator or commercial accessibility lifts needs please click here.
You can also reach us via the phone:
Calgary Office 403.519.3186
Edmonton Office 587.597.9959
Did you like this article? Share it!