Residential Lifts – What is a Porch Lift?
My career into the world of elevators and lifts started out as a technician, primarily installing and repairing residential lifts such as porch lifts. In my 17 years I have I have sold, repaired and maintained a multitude of different devices. I have leaned what products stand the test of time, and which ones fall short. The following is a list of things you should consider before you purchase a porch lift.
                                                                      Drive Mechanism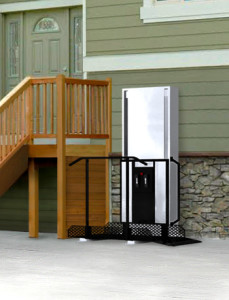 There are really only two choices in Alberta , ACME  Screw drive or hydraulic. Both mechanisms are safe and incorporate the required safety redundancies, but there is a big difference when it comes to how they function in the cold weather. When hydraulic fluid gets cold it thickens, which can cause the porch lift to operate slower, or not function at all . For this reason (along with an increased costs) I would typically never offer a hydraulic unit in an outdoor application.
Features like a Zero Load Start will lessen the strain on your porch lift during the  initial start up. This offering allows the motor to cycle prior to picking up the load and lessens the chance of blowing  the house breaker. Having a device with a direct drive (no gearbox) will also aid in your lifts functionality during the cold weather.
Platform Size
Most manufacturers make several platform sizes so it is important that your quote specifies the
size that will meet your needs. While a 48″ long platform may meet a portion of the populations requirements, I recommend a platform the is 54″ long. This longer platform will be able to accommodate most wheelchair users and an attendant if necessary. Widths are pretty much standardized in the industry with a typical size being between 34″-36″. If your porch lift needs to be configured to have adjacent access or a 90 degree turn, it is important to have a platform size of 40″ wide x 54″ long. This will ensure that the individual using the device can make the turn with ease.
Solid or Steel Mesh Platforms
If you choose a porch lift with a solid (non-see though) platform you will be required to purchase a device with an under-pan sensor. This sensor is necessary to ensure that you will not crush objects that you can not see under the platform when moving in a downward direction. The good news about under-pan sensors is that they work. The bad news is they can be temperamental  and cause the lift not to run. I remember one of my first service calls; I was dispatched to a lift that had gone up but would not come back down. Upon examination I had discovered that the under-pan had dropped down as it is intended to do, but the plunger switches that monitor the pan were frozen in the engaged position. The lift "thought" there was an obstruction, and therefore would not operate in the downward direction. For this reason I prefer lifts that have steel mesh platforms where the user can see any obstructions below the lift. I find it to be a simpler solution to this safety concern. The mesh also allows the rain and snow to fall through the platform, lessening the chance for ice build up and platform warping.
                                                                                                   Controls
Due to code restrictions, residential lifts such as porch lifts or vertical platform lifts are required to operate under constant pressure. This means you have to hold the button for the lift to run. For this reason it is recommended that the buttons on the device are both large enough and easy to access. You want a control that does not protrude into the platform area like a joystick, as these are easily bent or broken if a  wheelchair user drives into it. You also need  a controller that is weather resistant will not become stuck. I prefer a "paddle style"  control with soft touch operation.
Site Preparation
This is the work required so that  your residential lifts provider can install your device safely. All porch lifts need some form of foundation for the device to be mounted to. This can be accomplished with a variety of methods but the most common would be concrete sidewalk blocks or a poured concrete pad. Next we need to ensure that there is no risk of a pinching hazard, so we ask that a sheer plate is added the deck side of the lift. Finally we need to minimize the risk of someone falling off the deck area if the lift is in the down position. An upper landing gate will need to  be constructed to meet this safety requirement. Another option would be to have your lift provider include a porch lift gate for an additional cost. For applications where the lift is directly in from of a door (like in a garage) we need to monitor the door with an interlock to ensure that the door will not open if the lift is not at that level.
More information on porch lifts and residential lifts can be found here
A complete list of contractual requirements can be found here —–> Porch Lift Contractor Requirements
A summery of this document can be found here ——>Porch lift features
You may qualify for the Residential Access Modification Program (RAMP) . Click here to download the application