Commercial lifts for public applications
Commercial lifts, or vertical platform lifts, can help make a space accessible for those individuals with limited mobility. Wheelchair access is no longer considered an option; in many jurisdictions, it's the law.
A wheelchair lift installed in a public space creates a welcoming environment that allows everyone the ability to travel freely throughout the building. In new construction, a wheelchair lift can be incorporated into your barrier-free design. This eliminates the need for long ramps that can eat up valuable space.
Commercial lifts can also be retrofitted into existing buildings providing that space allows for it.
The code they are inspected under
The code under which commercial lifts are installed is referred to as the B-355 code or; Lifts for Persons with Physical Disabilities (LPPD).  This code ensures that each accessibility lift installed in Alberta is safe and easy to use. It also details the limitations under how these lifts may be used.
A commercial lift:
Must not have a total travel of more than 7 meters (23')
Must operate under constant pressure
May not have a platform larger than 21 square feet
The Process of Getting your Commercial Lift Certified.
A commercial lift requires a professional installation and ultimately will be inspected by AEDARSA (Alberta Elevating Devices & Amusement Rides Safety Association). In order to receive a Certificate of Operation your commercial lift supplier will have to implement the following steps:
Provide engineer stamped lift drawings (verifying that the commercial lift meets the B-355 code)
Register the accessibility lift with AEDARSA by providing the owner/ agent information
Receive the certificate of construction from AEDARSA, stating that this commercial lift may be installed
Install the lift as per the current code of the day
Have the lift inspected by AEDARSA
If any directives are present, address them and forward the report to AEDARSA
After these steps are completed your commercial accessibility lift will receive its certificate of operation and can now be used by the public.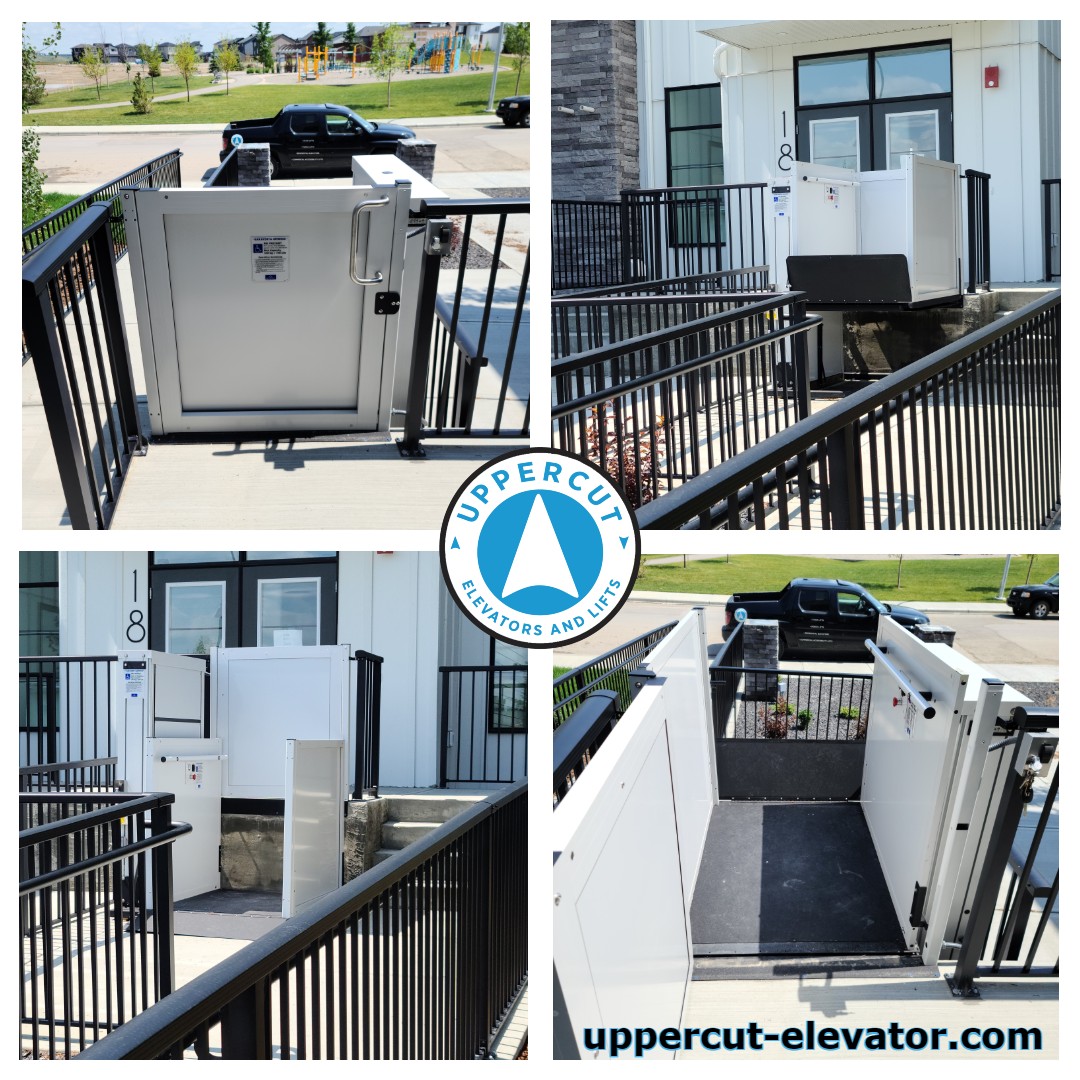 Types of commercial lifts
Commercial lifts can either be unenclosed or enclosed by design. An unenclosed vertical platform lift can be utilized for applications where the travel is less than 2500mm (98.4 inches). These are often referred to as commercial porch lifts and are commonly installed on the exterior of public buildings. They have no structure build around them (other than one support wall) and the lift platform has no roof on it.
If You Need A Longer Lift
Distances beyond 2500mm require a complete hoistway or shaft to be constructed around the lift. If the lift goes through the floor an enclosed lift will also be required. This hoistway can be built using 2×6 construction, structural steel or concrete block.
A fire separation in the building may also be the determining factor as to if you require an enclosed or unenclosed commercial lift.
The hoistway should always be constructed using site-specific drawings. These drawings will detail blocking locations, rough opening for doors, and the structural requirements for your commercial lift.
More information on commercial lifts can be found on our commercial accessibility lift page