There are many items that need to be considered if you are designing an elevator into a new home or doing a renovation to your existing home. Accessibility and "Ageing in place" are often topics that come up during the initial design. In this blog post, I will highlight some of the items that should be reviewed prior to the work starting.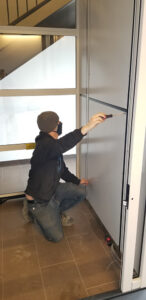 Do I need/want an elevator or a lift?
This is usually the first thing to consider. While lifts typically are installed for pure accessibility, elevators are provided for a variety of reasons. An elevator will operate using single touch controls, have much more flexibility in design, and have a car complete with a ceiling. An elevator will, of course, cost more than a lift. While a lift may meet your needs, another factor to think about would be the resale value of your home. A lift may be looked at as a piece of medical equipment, but an elevator is often regarded as an asset to the home and could be more appealing to a potential buyer.
Where should I locate my elevator or lift?
This is a matter of aesthetics and functionality. Ideally, you would like one device to access every level of your home, including grade or garage level. For this reason, we often install devices in or adjacent to an attached garage. Recently, a home owner came to us looking for a 2 stop device to access the second floor. We suggested placing the elevator in the garage and adding an additional stop and entrance. Our client was now able to access all levels of her home. If you have the ability to access your home at grade level many more options are available. We often install devices outside of the original building envelope. This method is popular during a renovation as it does not interfere with the existing layout. It also avoids taking  up valuable floor space.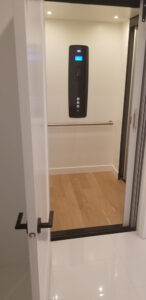 Configuration , car size and overall footprint
Finally, we must look at how the device with function within the home, and how the design will affect the usage. Elevators and lifts can be ordered in a variety of car sizes and configurations. It is very important to not only consider your needs today but look at what the future may hold. I recommend having a platform or car of 54 inches long. This will make it possible to accommodate a wheelchair if necessary. If the design calls for adjacent access or a 90-degree turn it is important to ensure that the elevator or lift platform is also wide enough. I like to incorporate a 40-48 inch wide platform in this situation.  This will, of course, affect your overall footprint of the device. Clients should also be made aware that some devices require a machine room, which can take up an additional 15 square feet or so.
If you require design assistance please contact us for a free assessment