Commercial lifts are a cost-effective way to make any public space wheelchair accessible. These wheelchair accessibility lifts are built to the highest standard for public safety and are required to meet the Lifts for Persons with Physical Disabilities Code (B-355). All commercial lifts in Alberta are inspected under this code. There are however restrictions on how these devices may operate so it is important to understand the B-355 code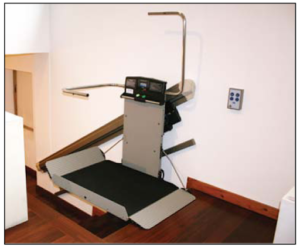 These wheelchair accessibility lifts can be planned for during the design phase or incorporated into an existing building as a renovation. There is a multitude of commercial lifts available, but the type of lift will depend on the specific application. The following is a description of each type of commercial accessibility lift
Inclined platform lifts
These commercial lifts are great when space is at a premium. They fit in the stairway and require a minimal amount of construction. They offer a variety of platform sizes to accommodate a wheelchair and fold up out of the way when not in use. Garaventa Lift is a leading manufacturer of inclined platform commercial lifts and produces two products. The Xpress II for straight stairways and the Artira for curving staircases.
Unenclosed vertical platform lifts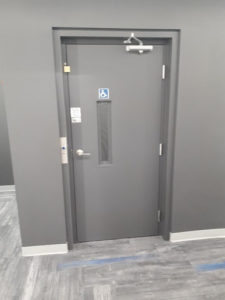 This code compliant device is sometimes referred to as a commercial porch lift and is ideal for access to stages storefronts or locations where the rise is under 2500mm of travel. As the name indicates these commercial lifts are unenclosed and do not have a hoistway or shaft constructed around them. An example of this type of lift would be the RAM TTL or TrusT Lift
Enclosed vertical platform lifts
You would use an enclosed vertical platform lift in a situation where you wanted to convey an experience closer to an elevator rather than a commercial lift. This product can accommodate rises of up to 7000mm and therefore requires a structure or hoistway constructed around it. The lift itself has full-height walls and a ceiling with lights. A product like the Garaventa Genesis enclosure model can be provided with its own enclosure but is limited to about 4900mm travel while devices such as the RAM CTL can travel the full 7000mm
Did you like this article? Share it!