The number one question we get when discussing an exterior lift is "how well does it work in the winter?".  Although we have been fortunate in Alberta so far this year , we know all too well that freezing temperatures are never too far off the horizon.  So the question regarding cold weather operation is very valid.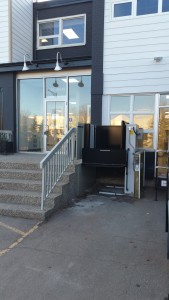 Our preferred lift for exterior installations is the RAM Trus-T-Lift™.  We recommend this wheelchair lift for both residential and commercial applications for the following reasons:
Drive Mechanism
The TrusT utilizes a reliable ACME screw drive. Unlike hydraulic drives, there is no hydraulic fluid to thicken when the temperature gets cold.
Finish
Some outdoor porch lifts are simply painted, but  all Trus-T-Lift™s are finished with a durable powder coating that ensures the finish will stand up to the elements
Zero Load Start
This is a feature that is unique to the Trus-T-Lift™ that allows the motor to run prior to picking up the user. This feature minimizes the strain on the device giving the motor a chance to "warm up" and therefore it doesn't experience the stress of start- up while under load.  The result is fewer problems with breakers or fuses blowing under extreme conditions.
Simplicity
Keeping things simple has allowed this wheelchair lift to be a reliable accessibility solution when the temperatures drop. There are no hoses, valves, PC boards, pumps, or complex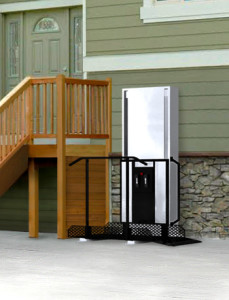 controllers associated with this drive .
Made in Alberta
Beyond any pride you may experience from buying local, it's good to know that your outdoor lift is made for people, by people who live in the same environment as you. The Trus-T-Lift™ has been manufactured for close to 30 years in Edmonton, where they know a thing or two about winter conditions.
If you have more questions regarding exterior porch lifts contact us or click here for more information