[metaslider id=755]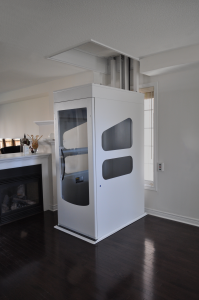 Sometimes when we look at an application for  an accessibility lift, there simply isn't enough space. In other instances we have the ideal space but the desired location will not allow for the hoistway and  corresponding load bearing wall.  I recently ran into this situation for one of our clients. No matter where we looked we couldn't find both space and have the design be aesthetically pleasing. After exploring all the traditional elevator and lift systems I remembered seeing a "no hoistway" lift at the national elevator show in Boston last September. I had ridden in their working display model and recalled the smooth ride, and how compact,  and appealing it looked. This design abled us to place the lift exactly where the client wanted, without being an eyesore in their living room. The system works by  dropping a piece of the floor in place when the lift travels to the lower level. There are pressure sensitive plates on both the top and bottom of the lift to ensure that no one is in danger when the device is in use. The major benefit for this client was when the device was not being used he could send it to the basement and maintain the sight lines through his living room.
For more information or a brochure on this residential lift please click here
If you would like information on residential elevators please click here
Did you like this article? Share it!